Rhonda & Carol had this built in SLVR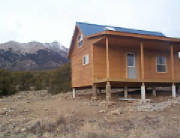 A local builder and the owners constructed this small cabin.
It is in Unit 14.
John E. built this in SDCR late this fall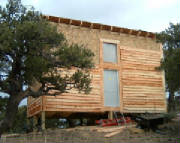 Cabin is on stilts due to the construction site slope. The owner spent about 3 weeks late fall of 2003 and had several helpers to get it to this stage. He will finish it next year.
2006 Price w. Steel Roof ---$18,000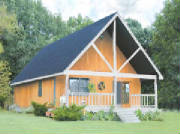 The materials for this cabin kit shown to the left are under $20. per sq ft. It comes from a local building supplier in Colorado: Sutherland Lumber. We only listed it here, because we think it is value priced, and to give an idea what something like this costs. Click their link for more information below the photo.
Living off the Grid -- an ebook from Leland Dirks that we recommend -- there are three parts to it. This is part one. Very informative helpful if you are starting off and want to see what others have done
Check out the book on Amazon.com
More Information about living off Grid- Blogger featured in Mother Earth News
Hans' Cabin was delivered in April 2006.
It came complete with stove, refrigerator, water heater, furnace, kitchen and bathroom fixtures, plumbing, electrical and stereo, microwave, skylight and blinds. It was approximately $32,000 delivered but there was more cost involved in the foundation/skirting, set up. It is 44' X 12'
Let us know if you are interested in a Cavco Home-see above
Cavco sizes range from 230 to 470 sq ft . Inside is knotty pine throughout. A 6' porch is available. Prices start at about $30,000 delivered and set up and can go up to $47,000
Sawmills, Cabins, Custom Metal Workshell Forest Products: Kentucky
A 12' X 24' "KIT" for you to assemble is $9,000. All cabins include front porch, railing, loft, ladder, and all materials except trim nails, caulk, stain and sealer. Delivery cost is $1.80 per mile. They will also assemble on your site. Unfinished so no plumbing or electrical is furnished. These look like they would be perfect for the San Luis Valley. Many sizes and features available - this is just an example.